About
Interactive Box is a young startup located in the Grenoble area, France.
Our goal is to offer a better user experience to all the comics fans!
Thanks to our "tap for next panel" system, read a comics on your smartphone has never been that enjoyable.
We still have plenty of ideas to add to our solution, please stay tuned.
Meanwhile, please contact us for any suggestions or informations.
Last project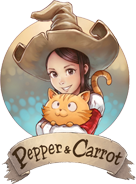 Pepper&Carrot is about "Pepper", a young witch and her cat, "Carrot", they live in a fun fantasy universe made of potions, magic and creatures.
It's a comedy/humor webcomic suited for everyone. No mature content, no violence.
To download the app: Pepper&Carrot the app
More informations about: Pepper&Carrot project